How to Assess Your Strategic Management Maturity
There are two basic questions to ask of management: are we doing things right, and are we doing the right things? Operational management focuses on doing things right, and many tools have been developed to improve this. In developing the Strategic Management Maturity Assessment (SMMA), the Balanced Scorecard Institute (BSI) has broadened the concept of "performance" to add strategic management concerns, which answer the second question, are we doing the right things. In any organization, it is the strategy, driven from the vision of the leadership, that defines what are the right things.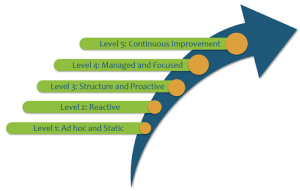 Executives and managers need to assess the levels of strategic management maturity in their organizations in order to ascertain if the strategy plan is supported. A Strategic Management Maturity Assessment will help identify the strong and weak dimensions of their strategy and provide recommendations on how to maximize the outcomes of the strategy. Knowing where you stand can guide leaders in identifying what specific dimensions of strategic management have higher priority for improvement initiatives.
Hosted by Nichelle Granderson, Founder and Chief Strategy Officer of BSI partner Strategy Plus (S+) Consulting and presented by BSI's Senior Vice President & Senior Consultant, Joe DeCarlo, this webinar will cover the eight strategic dimensions that will help executives and managers with the ability to improve their strategic management at their organizations. The SMMA was designed by and for busy executives and managers who need an assessment of where their organization stands in terms of strategic management, to monitor progress in improving maturity of strategic management, and to allow benchmarking across organizations, or departments within one organization, in order to identify best practices.
During this session, you will develop a basic level understanding of:
The various dimensions of strategic management and understand why they important
How to conduct an assessment of those dimensions in order to determine your organizations strategic management maturity
How you can use the assessment information results to correct gaps in your dimensions and levels of strategic management maturity