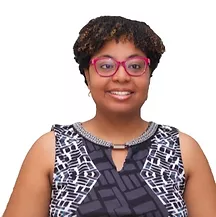 Danielle Tait is the CEO for The Interview JM Ltd. and COO for Cari-flo Innovations Limited. She is also a member of the Board of Directors for ROIC Ltd, an advisory board member for Kianne Patrice and Paradise Care Renewables as well as a member of the Utech Career and Placement Advisory Committee.
Danielle is a firm believer in working in an area you are passionate about, enjoying the work you do and lifelong learning. She completed her BA in International Studies at Furman University in South Carolina where she volunteered with Urban League of the Upstate, mentoring and tutoring at-risk youth. She has been recognized through awards in the areas of Service, Equality and Leadership, including the 2009 Upstate Diversity Leadership award sponsored by Michelin North America. She is Scrum Product Owner Certified and has a Graduate Leadership Certificate from the Jack Welch Management Institute. She continues her studies as an Executive MBA candidate at the Quantic School of Business and Technology.
As a serial entrepreneur, Danielle enjoys researching new topics to solve problems, implementing new ideas, and taking on new challenges. She strongly believes in sustainable and equitable innovation so solutions are made accessible to those who need it most and not a hindrance to minority or other disadvantaged communities. Her passion for helping people through innovation and technology has resulted in almost 10 years of experience in the Pharmaceutical industry and four years in HR Tech.
Between 2012 and 2013, Danielle volunteered with a community-based police youth group and developed an informal job network to help youth in that and other communities find entry-level employment with small businesses. She saw first-hand how a lack of critical employability skills and competencies made it hard for these youth to retain jobs or become eligible for promotion. She also saw first-hand the challenges companies had with identifying the right talent. Her company, The Interview JM was born out of years of trial and error and research about how to bridge this gap for companies looking to hire youth with the right skills and learning agility. This business idea has benefited from grant support through competitions organized by the UNDP, WorldBank, Government of Canada and UWI Consulting as well as the guidance of Founder Institute, a pre-accelerator programme with roots in Silicon Valley. It is now a registered business serving Companies, Universities and Career Professionals in the Caribbean.
Looking for a First-Class Business Plan Consultant?